C.R.A. 800 ENCLOSURE
C.R.A. ENCLOSURE MODULAR SYSTEM
Our C.R.A LX modular cabinet was born in 1992 and it is one of our leading products with thousands of units sold. Even today it remains one of the best products on the market. Thanks to its particular shape, it has maintained handmade cabinet solidity with the latest technology available. C.R.A LX peculiarity is robustness and versatility. The particular shape of its pillars and its reinforcements with the floor system give our cabinet a robust and a powerful structure which can contain heavy weight equipment.
It is completely made in Italy and it is IP55 certificate.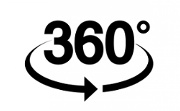 Rotation: mouse left button + mouse – Zoom: mouse wheel
Not compatible with some browsers
What it is for
Modular cabinet with exportable panels, doors
Used for big dimensioned batteries
Power/logic/data
Materials
Metal sheet FE P12 MA, first choice UNI EN 10130
Thickness: 2mm on structure, reinforcements and doors
Thickness: 1,5mm on side panels, back panel and inner door
Inner plate 25/10 thick in galvanized steel sheet
Interior fittings 25/10 thick in galvanized steel sheet
M14 screws, nuts and eyebolts are always included
Earth points PEM M6x16 are on panels and doors
Mechanical process
MIG welded joints
Check of welds and burrs by corners and edges
Welded door reinforcement
Assembly is always included, also array configuration
High quality accessories and spare parts available all over the world
Embossed and smooth thermosetting powder coating
Available all kind of Ral paints
Double colors paint on request
Good to know
Fast entry wiring plate mounted on rails adjustable in depth
IP protection: 55
Certification
According to NEMA 12 rules
25mm grid on all the inner surface
Fully door reversibility
Multiple uses: electrical/pneumatic, electrical/hydraulic, accessories and rack frame are adaptable
For example: C.R.A. 800-H1800xB800xP500 about 150 kg
Our cabinets will be delivered "turnkey", it means assembled and packed, ready to use for our final customer.
Thanks to the experience, to the potentiality of our technical department and to the plurality of the accessories available, cabinets are able to be completely customized. We can customized: drilling, internal setting, color; We are able to meet any request.
Colors, drillings, other elements customization
With EMC or stainless steel system
Make a Telephone Request
Speak directly with our technical team: you can explain your needs and get instant informations.
Standard measurements table C.R.A. 800
| Modello | Altezza H | Larghezza B | Profondità P | Area Piastra Porta p1 | Piastra HxB | Basamento altezza | Accessori disponibili |
| --- | --- | --- | --- | --- | --- | --- | --- |
| C.R.A. 800 | 1800 | 800 | 500 | 420 | 1700x700 | 100/200 | Tutti |
| C.R.A. 800 S.1 | 1800 | 800 | 600 | 520 | 1700x700 | 100/200 | Tutti |
| C.R.A. 800 S.2 | 1900 | 800 | 500 | 420 | 1800x700 | 100/200 | Tutti |
| C.R.A. 800 S.3 | 1900 | 800 | 600 | 520 | 1800x700 | 100/200 | Tutti |
| C.R.A. 800 S.4 | 2000 | 800 | 500 | 420 | 1900x700 | 100/200 | Tutti |
| C.R.A. 800 S.5 | 2000 | 800 | 600 | 520 | 1900x700 | 100/200 | Tutti |