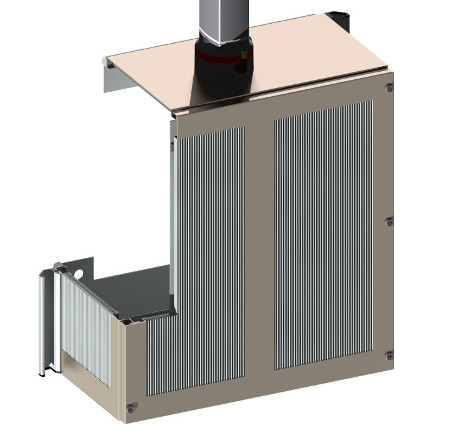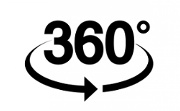 Rotation: mouse left button + mouse – Zoom: mouse wheel
Not compatible with some browsers
[Canvasio3DPro templateID="0″ objectID="11″][/Canvasio3DPro]
What it is for
Special roof case for the storage of communication man/machine instruments
Materials
Metal sheet FE P12 MA, first choice UNI EN 10130
Thickness: 1,5mm on structure
3 mm thickness reinforced arm/floor
Earth points PEM M6x16
For example: H500xL500xP200 about 18 kg
Aluminium dissipation panel
Rth (°C/W) (natural): 1,30
Rth (°C/W) (strained): 0,42
Mechanical process
MIG welded joints
Check of welds and burrs by corners and edges
High quality accessories and spare parts available all over the world
Embossed and smooth thermosetting powder coating
Good to know
Multiple roof system available
Minimum acceptable depth is 300mm
Screwed back door
Hanging or floor mounting
Anodized aluminium panels
Anodized aluminium profiles and handles
Cable holder between keyboard and case
Ral paint available, double colour also
Aluminium panel and case customized drillings
Fixed wiring plate made on back door
IP protection: 55
Certification
According to NEMA 12 rules
Multiple uses: electrical/pneumatic, electrical/hydraulic, adaptable accessories and rack frame
Our mini working stations will be delivered "turnkey", it means assembled and packed, ready to use for our final customer.
Thanks to the experience, to the potentiality of our technical department and to the plurality of the accessories available, mini working stations are able to be completely customized. We can customized: drilling, internal setting, color; We are able to meet any request.
Colors, drillings, other elements customization
With EMC or stainless steel system
Make a Telephone Request
Speak directly with our technical team: you can explain your needs and get instant informations.
Command panel accessories
Chiave uguale 333/1242/455

ART. 17/7
D-Aletta
3 mm Standard Cosmo
5 mm Request
Art. 17/5
Quadro Maschio

from 6 mm to 10 mm
Art. 17/3
Daimler-Benz
Art. 17/6
Esagono Femmina o Maschio

from 6 mm to 10 mm
Art. 17/1
Quadro Femmina o Maschio

from 6 mm to 10 mm
Art. 17/8
Triangolo Femmina o Maschio

from 6 mm to 10 mm
Art. 17/2
Fiat
Art. 17/4
Wheel trolley
COD: M.W.S-CAR 001
Fixed floor base
COD: M.W.S-BAS 002
Handle
Suspension systems
COD: M.W.S-BAS 002
Monitor support bracket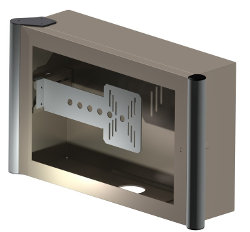 COD: PCP-M 001